Key Points:
Recent research shows a possible connection between Covid-19 and erectile dysfunction (ED). This doesn't mean that Covid-19 causes ED. But some severe or long-term health conditions that follow a Covid-19 infection may also increase the risk of ED.
No Covid-19 vaccinations approved by the Food and Drug Administration (FDA) include ED as a side effect.
No matter the cause, prescription erectile dysfunction treatments can help you (or your partner) get your sex life back on track.
We hope you've stayed on top of the long-term health effects that can follow a Covid-19 infection. We've worked hard to get ourselves far from the harrowing early pandemic days. But brain fog, fatigue and shortness of breath can still happen after any Covid-19 infection.
But can Covid-19 also lead to erectile dysfunction?
Here, we explore the link between Covid-19 and ED and how to minimize your risk. Are you already dealing with ED? Dr. B can help you get pills for erectile dysfunction online with a discreet $15 online consultation.
Is there a link between Covid-19 and erectile dysfunction?
Early research suggests that people who've experienced a Covid-19 infection may be at higher risk of developing ED.
This doesn't mean that Covid-19 causes ED. And we'll need a few more years of studies to confirm these associations. But Covid-19 can affect the body in ways that increase ED risk.
These changes include:
Endothelial dysfunction. A Covid-19 infection can damage the thin layer of cells lining the blood vessels and heart. This causes blood vessels to narrow, increasing the risk of cardiovascular disease and high blood pressure. Both of those increase ED risk. It may also cause damage to any organ with blood vessels—including the penis.
Hypogonadism. This condition alters the body's ability to produce robust levels of sex hormones like testosterone. Hypogonadism side effects include ED, low sex drive and fatigue.
Impaired pulmonary hemodynamics. This damages systems that handle blood flow in the lungs and affects the entire cardiovascular system. And healthy blood flow is vital in the process of making and maintaining an erection.
Mental health issues. Some studies show that Covid-19 infections and pandemic isolation have increased rates of mental health issues like anxiety, depression and stress. These are all risk factors for erectile dysfunction.
Lost access to ED medications. During the early days of the pandemic, over 40% of people in the US avoided health care out of infection fear. This included those who used prescription ED treatments, increasing rates of ED.
The best thing you can do to mitigate the severe effects of Covid-19 is to follow public health guidelines. That includes staying current with vaccines, isolating after exposure and testing when needed. It also means getting on antiviral medication within 5 days of your first symptoms if you're a high-risk individual.
Do Covid-19 vaccines cause erectile dysfunction?
There's no evidence that any FDA-approved Covid-19 vaccine causes erectile dysfunction.
Each manufacturer's clinical data summary lists potential side effects. Common and mild side effects include pain and swelling at the injection site, headache, nausea and vomiting. None are related to sexual health, fertility or sperm count.
The CDC also monitors rare, more severe reactions to Covid-19 vaccines. They haven't reported any instances of ED happening after a Covid-19 vaccine.
Considering the link between ED and Covid-19, getting a vaccine may reduce your risk of developing the condition.
How long does erectile dysfunction last after Covid-19?
The virus is (still) relatively new. So we don't yet know if post-Covid-19 erectile dysfunction is a long-term issue. Research is ongoing. It's best to speak with a medical provider as soon as you realize there's a problem.
How to treat erectile dysfunction after Covid-19
Several medical and lifestyle factors can help treat ED symptoms or sources regardless of origin.
ED treatments include:
Phosphodiesterase type 5 (PDE5) inhibitors. These include FDA-approved ED pills like  Sildenafil (generic Viagra), Tadalafil (Cialis) and Avanafil (Stendra). You can get many erectile dysfunction pills online through telehealth providers like Dr. B.
Cognitive behavioral therapy. For many people, ED results from a mental health issue like anxiety or depression. Therapy (alone or with a couple's counselor) may help relieve performance anxiety or other ED issues.
Lifestyle changes. Exercising, reducing stress, drinking less and avoiding recreational drugs can all lower the risk of ED.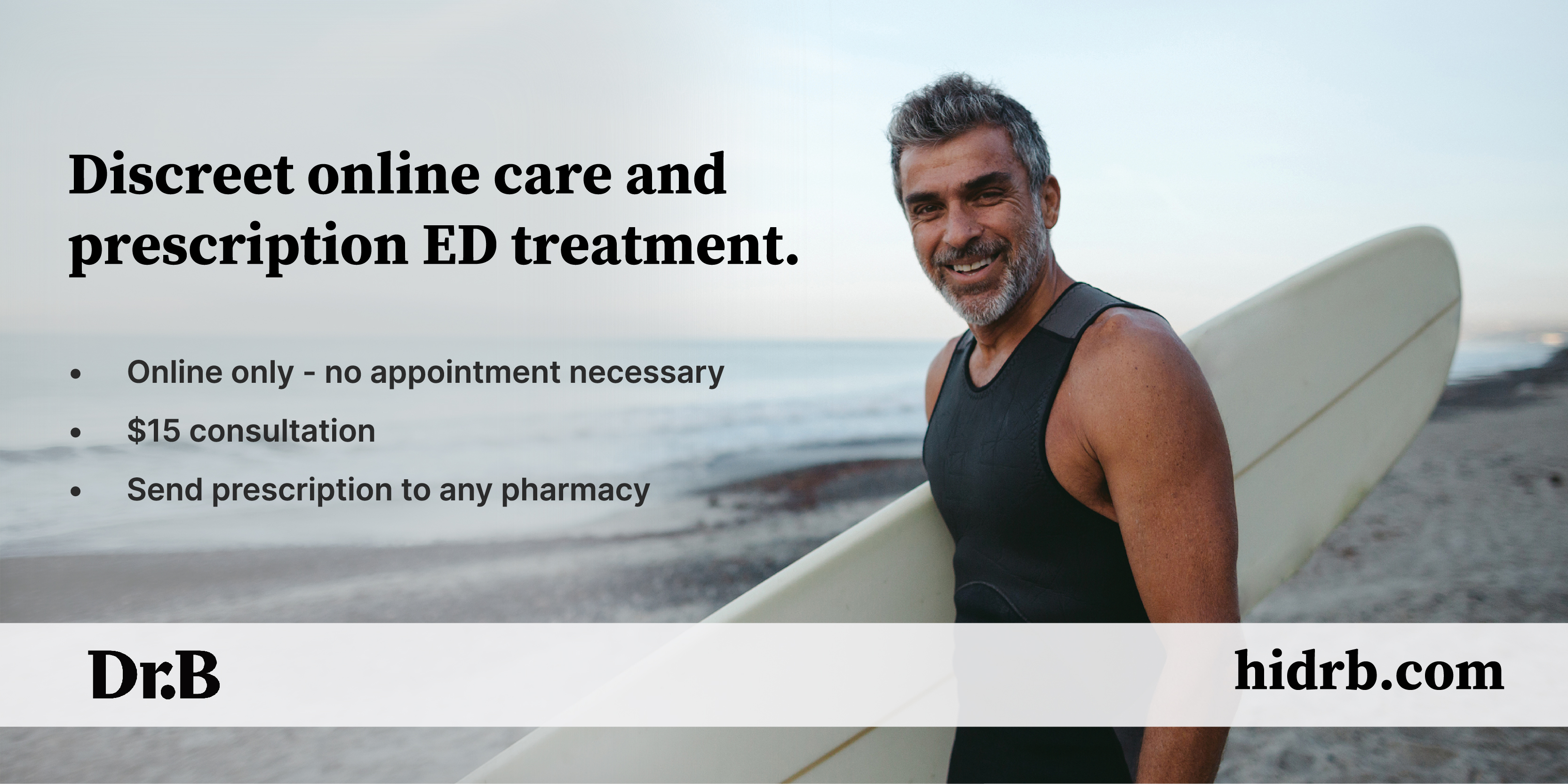 How Dr. B can help you get ED meds online
Dr. B aims to make quality healthcare affordable and accessible for all. Do you currently have a Covid-19 infection and are at high risk for severe illness?  We can help you get antiviral medications within the crucial 5-day symptom window.
If you're here because ED is putting a glitch in your love life, we can help with that, too.
Start a $15 consultation for prescription medications like Cialis, Stendra and Viagra online. A licensed health provider will review your assessment within a few hours. If they recommend an online prescription for Viagra or another ED med? They'll send the prescription to your chosen local or online pharmacy.
Dr. B treats over 30 conditions across primary care, dermatology, sexual health and reproductive health—all online. We're here whenever you need us. And always cheering for your good health!
Sources:
Centers for Disease Control and Prevention. (2022). How to protect yourself and others.
Centers for Disease Control and Prevention. (2023). Selected adverse events reported after Covid-19 vaccination.
Hsieh, C., et al. (2022). The epidemic of Covid-19-related erectile dysfunction: A scoping review and health care perspective. Sexual Medicine Reviews.
Kaynar, M., et al. (2022). Tip of the iceberg: Erectile dysfunction and Covid-19. International Journal of Impotence Research.
Sansone, A., et al. (2021). Addressing male sexual and reproductive health in the wake of Covid-19 outbreak. Journal of Endocrinological Investigation.
Xiong, J., et al. (2020). Impact of Covid-19 pandemic on mental health in the general population: A systematic review. Journal of Affective Disorders.