Get convenient
Covid-19

treatments online

Prescription antivirals like Paxlovid and Molnupiravir can help you recover from Covid-19 faster–right from home. Get started by completing an online health assessment.
Get Covid-19 Treatments
You may be eligible if you:
Have experienced Covid-19 symptoms for 5 days or less
Have taken a Covid-19 test
Are a patient at high risk of complications from Covid-19
Are 18 or older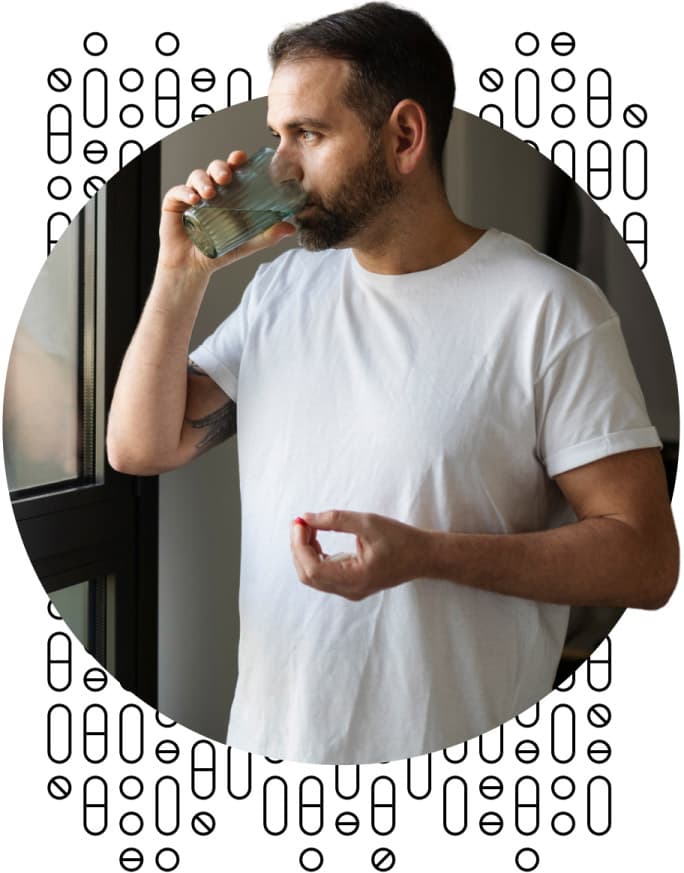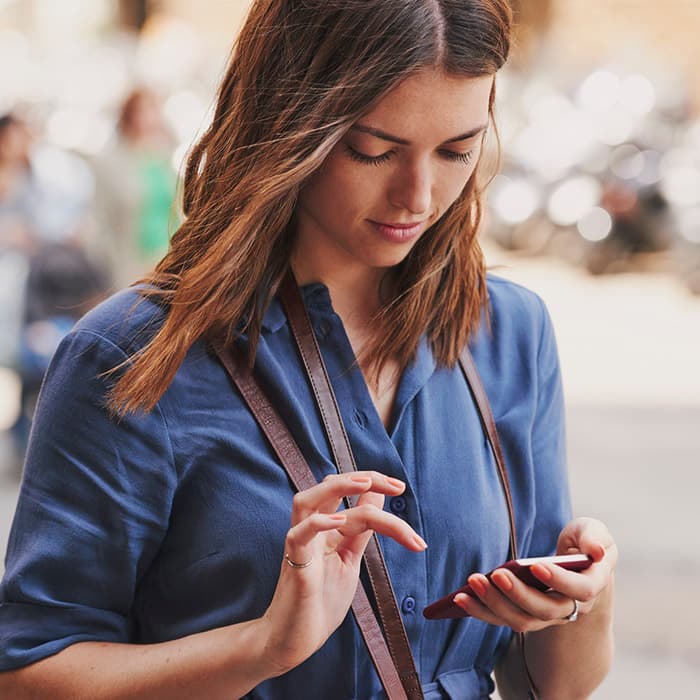 How Dr. B treats Covid
1
Health assessment with Dr. B
Tell us about your condition with a $15 online consultation. No video calls necessary.
2
Prescription sent to pharmacy
If a Covid prescription is recommended after a medical provider reviews your treatment, it will be sent to your pharmacy.
Pick up and pay for the medication at the pharmacy of your choice. Or, get it delivered.
Covid-19 Treatment Questions
What is the difference between Paxlovid and Molnupiravir?
Paxlovid is a prescription antiviral pill manufactured by Pfizer and currently considered to be the most effective at-home treatment for mild to moderate cases of Covid-19. It decreases the chances of hospitalization or death for high risk patients by 89%.
If you test positive for Covid-19, you can get a prescription consultation from Dr. B, have the prescription delivered to your pharmacy, then take a course of 30 pills at home until you recover. Paxlovid is provided for free by the U.S. government for as long as Covid-19 continues to be a public health emergency. It must be taken within five days of the onset of Covid-19 symptoms.
Molnupiravir (or Lagevrio) is another prescription antiviral that treats mild to moderate Covid-19 in high-risk patients. It's manufactured by Merck and shares similarities with Paxlovid including a course of pills taken over five days and the need to start treatment within 5 days of symptoms beginning. The medication is also provided for free.
However Molnupiravir is less effective than Paxlovid at preventing serious illness. It decreases the chances of hospitalization or death for high risk patients by only 30-50%. This is still significant and a good option for patients who may not qualify for Paxlovid due to pre-existing conditions or conflicts with medication. (Paxlovid has many drug interactions, while Molnupiravir has very few.)
The FDA has designated Molnupiravir as a backup option if no other Covid-19 treatments are available or appropriate.
Who qualifies for Covid-19 treatments?
Paxlovid and Molnupiravir are at-home treatments for high-risk patients experiencing mild to moderate Covid-19 symptoms. You may be eligible for a prescription consultation if you:
Have experienced Covid-19 symptoms for 5 days or less
Have taken a Covid-19 test
Are 18 or older

Are a high-risk patient with one of the following conditions:

Asthma
Cancer
Cerebrovascular disease

Chronic lung diseases limited to:

Interstitial lung disease
Pulmonary embolism
Pulmonary hypertension
Bronchiectasis
COPD (chronic obstructive pulmonary disease)

Cystic fibrosis
Diabetes, type 1 and type 2

Disabilities

Attention-Deficit/Hyperactivity Disorder (ADHD)
Cerebral Palsy
Congenital malformations (birth defects)
Limitations with self-care or activities of daily living
Intellectual and developmental disabilities
Learning Disabilities
Spinal Cord Injuries

Heart conditions (such as heart failure, coronary artery disease, or cardiomyopathies)
HIV (human immunodeficiency virus)
Neurologic conditions limited to dementia

Mental health disorders limited to:

Mood disorders, including depression
Schizophrenia spectrum disorders

Obesity (BMI ≥25 kg/m2)
Primary Immunodeficiencies
Recent pregnancy
Physical inactivity
Smoking, current and former
Solid organ or hematopoietic cell transplantation
Tuberculosis
Use of corticosteroids or other immunosuppressive medications
Unvaccinated or more than 6 months without a booster
Why is Dr. B providing consultations for Paxlovid and Molnupiravir?
In 2021, we launched the free Dr. B vaccine waitlist to match patients with providers who had extra vaccine doses. The goal was to get as many shots in arms as possible. Now we're advancing our goal in a new way: by offering online prescription consultations for Paxlovid and Molnupiravir, the primary at-home Covid-19 treatments.
How does Paxlovid work against the Covid-19 virus?
As an antiviral treatment, Paxlovid fights off Covid-19 with a combination of two different medications. Within the three-pill dose, two of the pills are Nirmatrelvir, which prevents the Covid-19 protein from replicating, while the other is Ritonavir, a medication that boosts Nirmatrelvir's effectiveness by slowing its metabolization by the liver, giving it more time to fight the infection.
How does Molnupiravir work?
Molnupiravir is taken as a 4-pill dose, twice a day for five days. It stops the Covid-19 virus from replicating by inserting itself directly into the genetic material that the virus uses to copy itself, thereby preventing growth of the virus.
Can I get a refill for Covid-19 medications?
No, neither Paxlovid nor Molnupiravir should be taken more than once in a 90-day span. If you are experiencing a new or rebound infection or if your original symptoms have not improved after a course of treatment, you should seek follow-up care with an in-person provider.
What is Paxlovid rebound?
According to the CDC, a small percentage of patients may experience "Paxlovid rebound" where Covid-19 symptoms briefly return 2-8 days after initial recovery. Researchers are still trying to understand why this is and whether it's tied to Paxlovid or other factors. However the medication continues to be recommended as the most effective treatment for early-stage treatment of mild to moderate Covid-19 among high risk patients.
For those that do experience rebound Covid-19, the symptoms are usually milder and there are no reports of progression to severe disease or a need for additional treatment. That being said, patients may still be contagious and will need to continue isolating to avoid passing the virus to others.
We will continue to update this information as new data and guidance becomes available.
How do you take Paxlovid and Molnupiravir?
For Paxlovid, patients take two doses each day, spaced 12 hours apart, for five days. A dose of Paxlovid contains two pink pills (Nirmatrelvir) and one white pill (Ritonavir). All three should be taken together.
For Molnupiravir, patients also take two doses each day, spaced 12 hours apart, for five days. A dose of Molnupiravir contains four red-colored capsules. All four should be taken together.
Pills / capsules should be swallowed with a full glass of water, not chewed, broken or crushed. It's important to finish the full course of the medication, even if symptoms begin to improve.
Does Paxlovid have side effects?
Paxlovid is typically well-tolerated. Any side effects are generally mild, and include the following:
Altered or impaired sense of taste
Diarrhea
Increased blood pressure
Muscle aches
Does Molnupiravir have side effects?
Molnupiravir is also typically well-tolerated. Any side effects are generally mild, and include the following:
Can Paxlovid be taken with other drugs?
The following medications can be taken with Paxlovid, but may cause side effects. Paxlovid should only be taken with these medications if you are under the in-person supervision of your primary care doctor. (We've included examples of popular drugs in each category, but there may be other brands or generics not listed here.)
Anticancer: Abemaciclib, Ceritinib, Dasatinib, Ibrutinib, Neratinib, Nilotinib, Venetoclax
Antidepressants: Bupropion (Wellbutrin), Trazodone
Antifungals: Ketoconazole (Nizoral, Xolegel, Extina), Isavuconazonium Sulfate (Cresemba), Itraconazole (Sporanox)
Antiviral for treatment of Hepatitis C: Elbasvir, Grazoprevir, Ombitasvir, Paritaprevir, Dasabuvir, Sofosbuvir, Velpatasvir, Voxilaprevir
HIV treatment: Amprenavir, Atazanavir, Darunavir, Fosamprenavir, Indinavir, Nelfinavir, Saquinavir, Tipranavir
Calcium channel blockers: Amlodipine (Norvasc) Diltiazem (Cardizem, Cartia, Dilacor XR, Diltia XT, Tiamate)
Cyclosporine (Cyclosporine, Restasis)
Digoxin (Digox, Lanoxin Pediatric, Lanoxin)
Ethinyl estradiol (present in many birth control pills)
Felodipine (Plendil)
Isradipine (Dynacirc)
Nicardipine (Cardene IV)
Nifedipine (Adalat, Procardia, Procardia XL)
Nisoldipine (Sular)
Verapamil (Calan, Covera-HS, Isoptin, Verelan)
Methadone (Diskets, Methadone Intensol, Methadose)
Oral steroids (Prednisone, Methylprednisone, Dexamethasone, Hydrocortisone, Betamethasone)
Quetiapine (Seroquel)
Rivaroxaban (Xarelto)
Sirolimus (Rapamune)
Tacrolimus (Protopic, Envarsus XR, Astagraf XL)
Warfarin (Jantoven, Coumadin)
Can Molnupiravir be taken with other drugs?
No drug interactions for Molnupiravir have been identified based on limited available data. Clinical studies of drug interactions have not been conducted yet, however Molnupiravir does not have inhibitors or inducers of common drug metabolizing enzymes, which makes interactions with other medications unlikely.
Who shouldn't take Paxlovid?
Paxlovid has negative interactions with many drugs. If you are taking any of the following medications, Paxlovid is not the right treatment for you and you'll want to follow up with your primary care provider to discuss alternate options.
Alpha1 adrenoreceptor antagonist: Alfuzosin (Uroxatral)
Analgesics: Pethidine (Meperidine, Demerol), Piroxicam (Feldene), Propoxyphene
Antianginal: Ranolazine (Ranexa)
Antiarrhythmics: Amiodarone, Dronedarone (Multaq), Flecainide (Tambocor), Propafenone (Rythmol), Quinidine
Anticancer: Apalutamide (Erleada)
Anticonvulsant: Carbamazepine (Tegretol), Phenobarbital (Luminal), Phenytoin (Dilantin)
Anti-gout: Colchicine
Antimycobacterials: Rifampin
Antipsychotics: Lurasidone (Latuda), Pimozide (Orap), Clozapine (Clozaril)
Endothelin receptor antagonists: Bosentan
Ergot derivatives: Dihydroergotamine (DHE), Ergotamine (Ergomar), Methylergonovine (Methergine)
Hepatitis C direct acting antivirals: Glecaprevir/Pibrentasvir (Mavyret, Maviret)
Long-acting beta-adrenoceptor agonist: Salmeterol (Serevent Diskus)
Narcotic analgesics: Fentanyl, Methadone (Diskets)
PDE5 inhibitor: Sildenafil when used for pulmonary arterial hypertension (PAH) or erectile disorder (Viagra, Revatio)
Sedative/hypnotics: Triazolam (Halcion), Oral Midazolam (Versed)
Statins: Atorvastatin (Lipitor), Fluvastatin (Lescol XL), Lovastatin (Altoprev), Pitavastatin (Livalo, Zypitamag), Pravastatin (Pravachol), Rosuvastatin (Crestor, Ezallor), Simvastatin (Zocor, Vytorin)
St. John's Wort
Who shouldn't take Molnupiravir?
If you are pregnant, planning to get pregnant, or breastfeeding then you should not take Molnupiravir. Men with female partners should use reliable forms of birth control while using this medication and for three months after stopping treatment.
How can I get a Covid 19 prescription online?
If you have Covid-19, there's no need to trek to your doctor's office for a prescription. Dr. B offers a convenient online medical service that can help you get prescription Covid-19 treatment online within the 5-day window after symptoms begin. To get started, just fill out an online health assessment. Next, a vetted doctor or medical provider will review your health and medical history. If the provider recommends a prescription for Covid-19 treatment, it will be sent it to your local pharmacy for pick-up.
How much do Covid-19 treatments cost?
Consultation:  A virtual medical consultation for Covid-19 costs $15, which is lower than most doctor co-pays. Currently we don't submit medical consultation claims to insurance companies, but you can use insurance for any resulting prescriptions at your pharmacy.
Medication: The U.S. government is providing Covid-19 antiviral treatments for free at pharmacies across the country. The drug will be free of charge for as long as Covid-19 remains a public health crisis.
Do you accept insurance?
Dr. B does not accept insurance or submit claims to insurance companies at this time.
Need a hand getting treatment for Covid-19? Dr. B can help. 
Everyone should have access to quality health care. To support that goal, we're providing no-cost consults for Covid-19 treatments to qualifying patients.
"The process could not have been easier. My chart was reviewed by a licensed professional and I was able to pick up my prescription at my preferred local pharmacy within a few hours."
Meghan E. from Florida
Verified Patient
"Dr. B made it easy and affordable to get my medication. I was able to get a prescription without having to go through the hassle of having to make a doctor's appointment, take time off work, etc., all while knowing that there is a trusted medical professional taking care of me."
Marsha D. from Florida
Verified Patient
"The process for the Dr. B birth control was very easy and efficient. The website made getting prescription birth control easily accessible, especially for someone like me who does not have an established primary doctor in the area yet."
Jennifer F. from Florida
Verified Patient